NPG Interactive U.S. Population Map
Hover over a state to see information. Click on a state for access to that state's Overpopulation page – news, fact sheets, and more detailed information!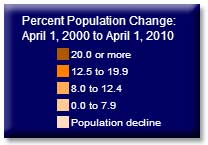 NPG created this interactive U.S. population map to stimulate greater interest in population issues at the state level. It illustrates how population growth effects each state now, and – in many cases – how it will have an even more devastating effect in the future.
Visit our map often, as we will continually update it to reflect the most recent data available! Currently, our map reflects figures from the 2010 Census.
Interactive U.S. Census Bureau Chart
This is an interactive chart from the U.S. Census Bureau showing population size, change, density, and representational apportionment.
Population Growth in the National News
How to Save 12.6 Million Lives A Year – November 14, 2016
The Science Zone: On shaky ground – November 14, 2016
Earth roasts through hottest summer ever recorded – September 21, 2016
St. Louis is key to nation's freight issue – September 18, 2016
France's Sarkozy Says Population Bigger Threat Than Climate Change – September 15, 2016
EXCLUSIVE: Middle-America Hit with Staggering Immigration Surge – September 13, 2016
Illegal Immigration Surged in August, Illegal Families Set for Worst Year on Record – September 13, 2016
10 Cities with the Worst Traffic – September 5, 2015
Migration to South, Southwest could alter political landscape – August 28, 2016
The Elephant in the Classroom: Mass Immigration's Impact on Public Education – August 20, 2016
The drought no one is talking about in the southeastern United States – August 8, 2016
Fastest Growing Cities in US are 'Deep in the Heart of Texas' – May 20, 2016
Census shows big U.S. cities continue to grow – May 19, 2016
Infrastructure's death by a thousand cuts, its rebirth by bonds, ballots, and partnerships – May 12, 2016
Midland-Odessa CSA leads the nation in population growth – March 29, 2016
Blair Horner: The Nation's Growing Drinking Water Crisis – March 28, 2016

These are the 17 fastest-growing cities in America – March 25, 2016
Obama says budget includes more money for water systems January 21, 2016
Americans are moving south, west again – January 21, 2016
Wildlife Feel Squeeze as 322 Million Americans Ring in New Year – December 30th, 2015
U.S. population nearly 323 million as of Jan. 1, Census says – December 30, 2015
Investors Want More Public Disclosure from Fracking Companies – December 30, 2015
Fracking Brings Steep Drops in Home Values in Some Neighborhoods – December 30, 2015
All Naughty, No Nice: 5 Worst Fracking Moments of 2015 -December 28, 2015
Migrants to drive 88% of US population growth – October 1st, 2015
Modern Immigration Wave Brings 59 Million to U.S., Driving Population Growth and Change Through 2065 – September 28, 2015
Share of Immigrants in U.S. Nears Highs of Early 20th Century, Report Finds – September 28, 2015
Old Age Adds To World Population Growth With Elderly Numbers Projected To Break A Billion By 2050 – March 31, 2015

Pew Research: Here come Asian immigrants, millennials, unaffiliated voters – March 31, 2015
Experts foresee shortages as the nation's freshwater supply dwindles – June 23, 2014
Where Cities Are Growing Faster Than Their Suburbs – June 23, 2014
Does Air Pollution Raise the Risk of Autism? – June 9, 2014
Among Climate Threats, Military Leaders See Population Growth, Natural Resources as Key Factors – May 22, 2014
As food demands rise, farmers struggle with water conservation – April 21, 2014
Overpopulation is killing the American Dream – April 21, 2014
America's Fastest Growing Cities – January 23, 2014
Most Polluted Cities – 2014
ER crowding tied to higher in-hospital death rates – December 13, 2013
Crime in America: Top 10 Most Dangerous Cities Under 200,000 – November 25, 2013
The 10 Most Polluted Cities in America – November 5, 2013
In Focus: Improving Patient Flow—In and Out of Hospitals and Beyond – October 23, 2013
Report: Polluted farm runoff linked to toxic green algae slime in U.S. waters – September 26, 2013
Drought Map – August 21, 2013
Success Stories – July 18, 2013
What Is Farm Runoff Doing To The Water? Scientists Wade In – July 5, 2013
Important New Study: Autism Linked To Air Pollution – June 18, 2013
Does Air Pollution Raise the Risk of Autism? – June 9, 2014
About a third of US rivers contaminated with agricultural runoff – April 8, 2013
Emergency Department Overcrowding: A Forced Window of Opportunity – March 27, 2013
Report Card For American Infrastructure – March 2013
The 2013 Annual Homeless Assessment Report (AHAR) To Congress – 2013
What You Need To Know About Coal Ash – 2013
Facts about Pollution from Livestock Farms – February 21st, 2013
What's Happening to Our Farmland – 2013
America's 10 Most Polluted States – September 6, 2012
U.S. Metro Economies – July 2012
Our Most Polluted States – May 17, 2010